I just got my Stencil Printer from Aliexpress 
http://www.aliexpress.com/store/product/cheap-price-manual-silk-screen-printing-machine/1556336_32609744951.html?spm=2114.8147860.0.75.aFT3sO
It cost 100us including shipping  but has one big limitation it is only the pcb needs to be flat on the surface.
If I need to print on both sides I need to buy a printer that can have a offset so I can place the pcb above the surface. about 5 times the price.
http://www.aliexpress.com/item-img/Authorized-New-Arrival-PUHUI-High-Precision-Printer-Manual-Stencil-Printer-machine-Silk-Printing-Machine/32702010537.html?spm=2114.10010108.1000017.2.uqq2G3
Here is the solution  that saved me 400us and getting a double tool for 100usd.
I printed plastic blocks with a groove of 1.6mm in the top 21.6mm high  and a hole in the bottom for a  neodymium Magnet in the bottom that I glued into place with
ABS plastic melted in  acetone. From the cheap I3 Sunhokey reprap.
I still need to do some welding on making the frame for the Stencil as the one it came with is too small and is Aluminium my plan is use a large number of magnets to hold
the strencil in place.
It may not be the best solution but it saves me about 400$ on the price of the Tool.Next up is the Pick & Place tool using Openpnp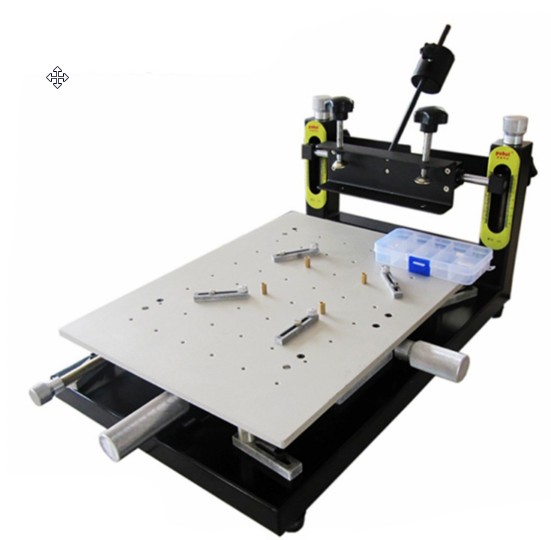 Top Tool 500$    including Shipping   Bottom Tool 100$  including shipping
 3d Printed  Model to Standoff the PCB