After Shabbat 3 hours Worked Update . I have a Simple cold  I have not had Human Contact with anybody besides Shopping with a mask 23 Days.

 
 By porting to a ESP it can allow Andres tricks BLE and WIFI
  )

SW2 will need to Have C Code Change Not Toggle Edge Trigger It is ON/OFF .
A7 Needs To Be Checked For a Fraction of VI warn on Low Voltage .
Dxf Created In Fusion 360.
https://grabcad.com/library/ambervent_pcb-baisic-placement-1 (Basic Placement  Missing Switches   Test Hold Status)
At  JLCPCB  about 1$  for 2 Layers about 2$   for 2 Layers  Using  154mm * 154mm


Start Full PCB with all parts and swiches on 1 Board Missing DXF


Copy_of_Sparkfun_pcb_aliexpress

I spent my Day on AmboVent Is a Mess However Designed the Electronics and PCB needs to
be Banned From using a keyboard. When people Lives Depend on a device Working  it is not
a high school Arduino Project.
Or some makerspace group Idea .
I2C SPI 

Change Battery when the Person Dies

Project Update
As A direct  result of the Good work done at (Hawaii Pacific Health) They have bypassed the Need for such a system
I am as such putting It on Hold.
______________________________________________________________________________________________________________________
Here Is Nurse that explains what is needed I am not creating  any Major Project . I try to solve the problem She states
Two Issues one solved by a visit to your Local Hardware store  as the Doctor from Belgium Shows below . I want to deal
with the second Issue .
)
Where the Idea Started 
Where I got The  idea For My Design
The Hardware Project  To Extend  Ventalator from 1 to 4  in a Safe way 
)
 HX711
)
 INA326
)
The Project  Aims To Bridge The Gap to Allow  Basic Monitoring  of  Sick People and remote Medical it Aims to have The Following.
1. Measure Pressure at the Begin of Each Breath.
2.Maximum  Pressure In the Lung  .
3 Pressure at the End of Exhale.
4.Remote Changing of Valve  to Adjust Air Flow ( Very hard to do this Safely a real problem )
5  A Near  100% Fault Tolerant  System and A low cost option with no Fault Tolerant Hardware.
6. Goal 100$ without Mechanical and 160$ Full System 200$ .
Not including Wifi router and computer for MQTT broker , Node Red,InfuxDB,Graphana.
 I have Current two Ideas of parts to use for the project  this is why I show both versions a third option 
 Made with brand name chips  Medical Grade
Sch of design   ( INA326 INA333 Ti Version )
 
   
Sch of HX711 with mech feedback.
The HX711 is off Brand   Not a great option if I was worried about FDA
Based On  Sparkfun  but removes power supply to bridge.Sparkfun

Option 3   Using  NAU7802  I want to avoid using I2C  with 8 devices on the busFor a medical product.
Option 4  You get Pressure sensors with digital  output included  it is too expensive over 30$ per sensor the NXP sensors are about8$ . The system has 10 sensors 40-80$  vs 300$ BOM.
 Option 3 And 4 Rejected either I2C hard to get 100% with many devices on the bus or Costs far above what is logical.
Cheap LCSC
https://lcsc.com/products/Pressure-Sensors_11046.html Choose Sensirion see Prices and Stock.
NXP Sensors are the Most Logical Still open issues The Circuit Is me Expressing my Ideas Far From Final.
OPEN unresolved points
MPX2300 needs 6-10v power  MPX2050 needs 10-16v  HX711 max voltage is 5.5v but can run from 3.3v  Stepper needs 12v if I power 7805 from 12v it will heat up only 40% usefull 60% heat.
To use a MPX300 and 8v  7808  in 7805  and power the HX711 from 3.3 both analog and digital.
The output of the mux I want to take to both esp but that looks a issue if the one 3,3v Fails I will have  vcc and voltage fron the mux above VCC . For now I do not see a good solution.
---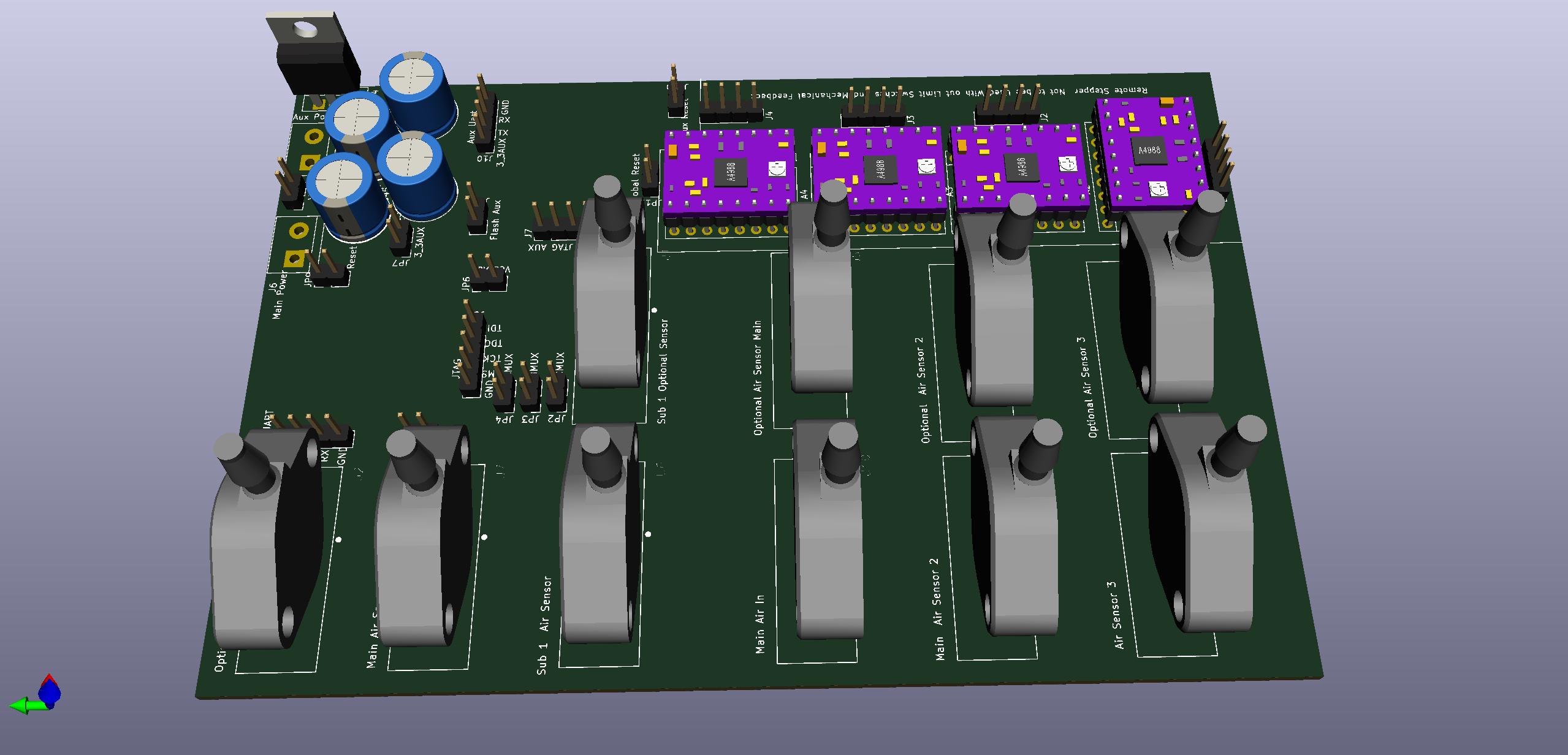 3d model
3d

Mechanical Starting  Point  From Thingaverse link
Video  Of 3d Printed  Note the Feedback Is not Useful I need position feedback Not Feedback of Movement counts .
)
 Best system I have seen is this from USA.(Hawaii Pacific Health)

)
It seem the best only one point that the  patient data required the doctor to open valves so the feedback sensor is connected
still the best most system so far.
 I commented a simple adition  of a Arduino Style Board and a ULN2003 and 4 Air Relays 1 and a large Seven Segment Or Even 4 Led
upgrades  the system by Far .


Aliexpress Link Better Than stop Cocks
From Belguim  with Valves 
  )
Best
India
   ) 
  )


 
)
Walk Back  by People  that did not support the Practice
)

Why  I am Not Joining  any low  Cost Project
)

Note my Project  the Issue of Monitoring 
New York Jump to 4:02  Into the Video
)
Some Random Internet
)
!!! No Advanced  Data Like heart rate pulse will be retrieved .
I